Business Development & Partnering
At MDimune, we are passionate about changing the world by developing innovative therapeutics.
Business Model
Through global collaboration based on the BioDrone™ Platform, we focus on the research and development of gene therapy therapeutics for anti-cancer and central nervous system (CNS) treatments, and rare diseases.
Business Domain
Anti-cancer & CNS (including Rare disease)

PIDO (Platform Inside Development Outside)

Discovery
Pre-clinical
Clinical stages
Sub-license Out

Promotion of business development through cooperation with partners Multiple platform royalties

Collaborative Pipelines

BioDrone® Platform based externally parallel processing of multiple pipelines

Global Open Innovation

BioDrone Award (domestic) Global platform technologies (Targeting, CNS, etc.)
Core Competences
02

Collaborative
Pipelines
PIDO
(Platform Inside,
Development Outside)
Bio-compatible: Based on Human cell-derived vesicles(CDV)
Highly scalable drug cargo: mRNA, siRNA, Peptide, etc.
Specific tissue targeting through cell and CDVs surface engineering
Holds the original patent for the extrusion method that solved the low scale-up issue of EVs

02

Collaborative Pipelines

Bio-customization Strategy

Customized CDVs therapeutics optimized for various diseases and targets

Risk-hedged Joint Pipeline Development Strategy– 'PIDO'

Based on extensive global network in the clinical and manufacturing fields, MDimune handles multiple pipelines with reduced risks and minimized resources through external collaborations
BioDrone™ Collaboration system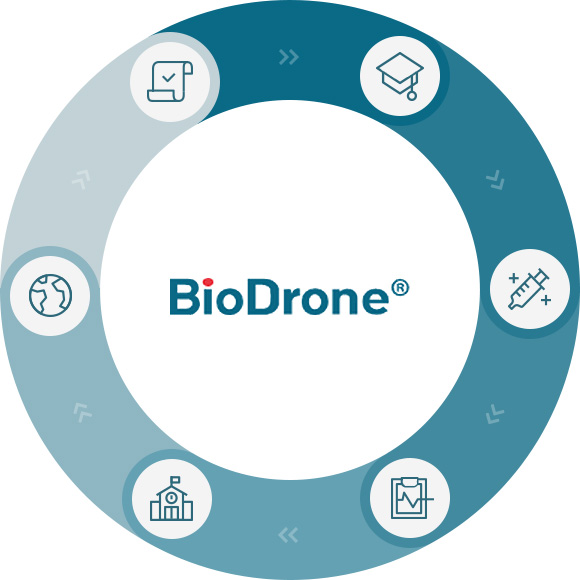 01 Scientific Advisory Board (Pre-clinical Research Consultation)

Dr. Mario GimonaㅣProfessor, Paracelsus Medical University Dr. Eva RhodeㅣProfessor, Paracelsus Medical University Jin-Keon Pai, Ph.D.ㅣCEO, PAIJIN BioScience Inc. Minhyo Seo, Ph.D.ㅣVice President of R&D, Samyang Biopharm Corp.

02 Preclinical Trials

K-BIO HEALTH OSONG Medical Innovation Foundation, QuBEST BIO, Biotoxtech, Axis Bio (UK)

GMP Manufacturing Process Development

Paracelsus Medical University, Stratec, L****, Celonic, Cytiva

04 Domestic Joint Research

Ildong Pharmaceutical, REYON Pharmaceutical, Asan Medical Center, POSTECH (Pohang University of Science and Technology), Inha University, Konkuk University, Korea University, The Catholic University of Korea

05 Overseas Joint Research

L**** (Switzerland), E****** (France), ExonanoRNA (US), Evercyte (Austria), Navigo Proteins (Germany), Vect-Horus (France)

06 CRO Licensing and Patent Strategy

MEDITIP, MJ International Patent Law Firm, JUNGJIN Intellectual Property Law Firm, PharmaVentures
Partnering
Early-stage Discovery

Explore advanced technology to integrate into BioDrone™ platform

Global Pharma/Biotech

Co-develop BioDrone™ to the commercial level
Seeking open innovation and co-development opportunities for gene therapies (siRNA, miRNA, mRNA)
Especially interested in partnering with companies with CNS targeting capabilities that would be compatible with EVs.
Open for co-development opportunities with Biotechs or Pharmas looking to load payloads through the novel bio-safe DDS(Drug Delivery System) to advance into clinical stages.
Contact

bd@mdimune.com